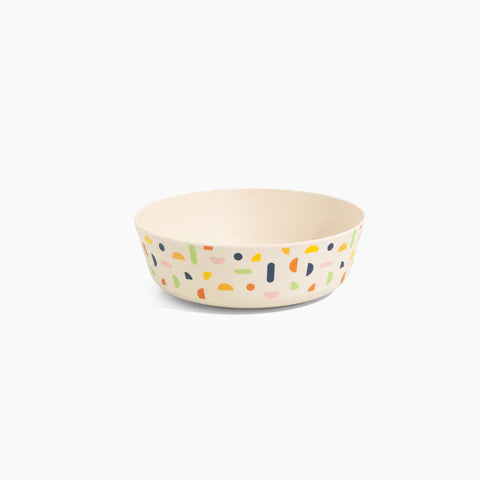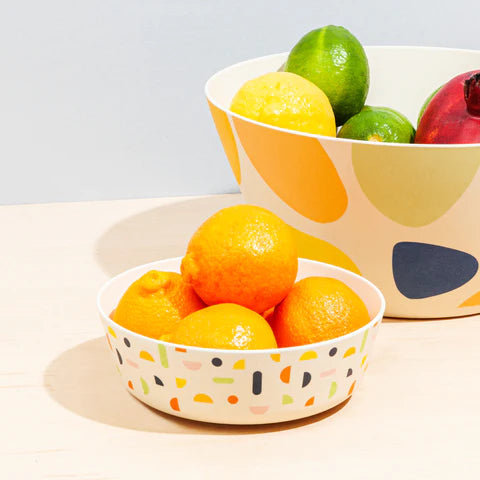 Collection:
Poketo Bamboo Bowl Set in Chips
Poketo Bamboo Bowl Set in Chips
Regular price

Sale price

$46.00
From snack time to dinnertime, from outdoor hangs to your kitchen table, Poketo bamboo tableware is there for every delicious occasion. 
Our Bamboo Bowls, now in our new colorful Chips pattern, are made from certified organic bamboo fiber and cornstarch. Durable with a smooth, modern look, they are great alternatives to styrofoam and can be used over and over for your favorite moments of the day, whether that be a casual picnic or family meal.
Bamboo is a fast-growing, renewable resource, and our bamboo plates are 100% biodegradable and free of melamine and plastic, making it an environmentally conscious choice to be kind to yourself, your family, and our planet.
Try matching dinner plates, salad plates, drinking glasses, cups, coasters, and tea towels for a perfectly matched kitchen set.
*Slight color variations are a natural by-product of the bamboo fiber

Set of 4
Made from bamboo fiber, cornstarch and printed with food-grade ink
Non-toxic and Compostable
Dishwasher safe. Do not microwave
6"D x 2"H (15.24 x 5.08 cm)